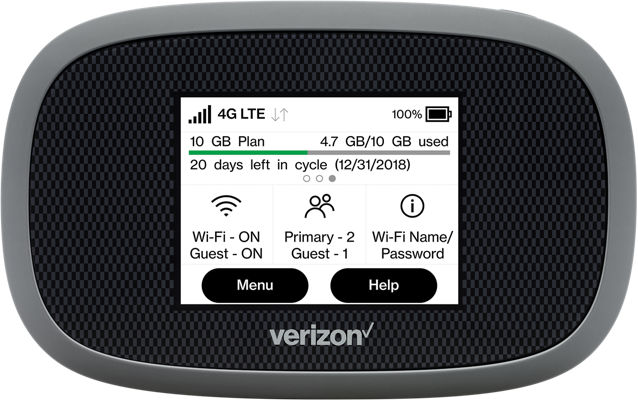 Customize
Gray
Monthly payments shown are for customers who qualify to pay $0 Down, $5.55/mo for 36 months; 0% APR. Retail price: $199.99. One-time activation fee of $35.
Introducing the MiFi 8800L, the first CAT 18 LTE Mobile Hotspot with 2, 3 and 4 carrier CA and LAA technologies. Enjoy a faster connection on a Global-Ready™ device with an intuitive 2.4-inch color touchscreen up to 24 hours of battery life.* Work confidently using advanced security features like Auto VPN, data monitoring and an optional guest network. The MiFi 8800L includes a universal charger and USB port for fueling up smartphones, tablets and other devices. And you can connect up to 15 different devices at a time over Wi-Fi. Get the most out of your MiFi 8800L with Verizon, the nation's largest and most reliable 4G LTE network.
Reviews
288 reviews
of reviewers recommend this product.
Junk
Leopleuridon · 10 hours ago
I've had this thing for a few months now. It constantly restarts itself, has poor battery life, and sometimes just randomly disconnects. It had to be manually restarted when it disconnects, which is a problem as I use it at a remote site for monitoring. And for some reason, it receives text messages. You can't reply to them as there is no keyboard. Why receive texts on a device you can't interact with? I've gotten hundreds of texts from random people and lots of spam. Just dumb. Not happy at all with this device.
Don't really recommend.
I'm the only one who uses it and the data speed is slower than my home WiFi which has with 10+ devices on it and my house is in an area that catches up to 5G..
*Based on average battery life under typical usage conditions. Average expected performance based on typical use. Actual battery life depends on factors such as network, features selected, frequency of calls, and voice, data, and other application-usage patterns. Results may vary.